Samsung Galaxy A7 specs look better than you might expect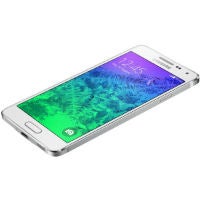 While most of the attention goes to Samsung's top-of-the-line flagships - the Galaxy S and Note series smartphones - Samsung is putting solid effort into its new mid-range line the Galaxy A series. The Galaxy A3 and A5 were the first Samsung devices to feature all-metal bodies; and now, the rumored specs of the
Galaxy A7
look better than you might expect from a mid-range device.
The big improvement looks to be with the processor found in the Galaxy A7. Whereas the A3 and A5 each used the Snapdragon 410 chip (a lower/mid-range SoC), the new rumor says that the Galaxy A7 will use the same octa-core Exynos 5433 SoC that you would find in a
Galaxy Note 4
. There had been rumors that the Galaxy A7 would move to the Snapdragon 615, but the Exynos 5433 would be an even bigger step up for the device as it would be clocked at 1.8GHz for the high power Cortex-A57 cores, and at 1.3GHz for the Cortex-A53 cores.
Beyond that, the A7 is expected to feature a 5.5-inch 1080p display, which will be the standard for all markets. Previously, it was speculated that Samsung would have different variants for different markets. The A7 is also said to have 2GB of RAM, a 13-megapixel rear camera, 5-megapixel front camera, 16GB of storage, and a 2600 mAh battery. The
dimensions of the A7
also look pretty solid at 150 x 75 x 6.3mm and 150g. For comparison, that would make the A7 roughly the same size as the LG G3 (146.3 x 74.6 x 8.9mm, 149g), but noticeably thinner.
Ultimately, it looks like the Galaxy A7 will be more of a high-end device, and could end up sporting a higher price tag than the A3 or A5. There's still no word when the A7 might be released, but we'll keep watching for it.