Samsung Galaxy 3D coming by the end of the year?
12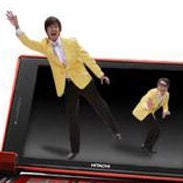 The
Samsung Galaxy 3D
seems like the most logical name for an upcoming 3D handset by the phone maker, but while that name is far from final, rumor spread by Korean website ETNews points out that the company is planning to release a 3D handset by the end of the year, just in time for the Holiday shopping season. The phone will rival glasses-free 3D phones like the LG Optimus 3D and the HTC EVO 3D.
The Galaxy 3D is expected to be a
variation of the Samsung Galaxy S II
, which – even though it is not even available in the States yet – has enjoyed great initial response with over 3 million sold units. The 3D handset will feature
two 8-megapixel rear-facing cameras
for capturing 3D stills and video. The handset will sport a similar 4.3-inch display and will focus on media with the possibility to easily transfer user-created content to an HD TV, possibly via an HDMI-out port. Under the hood, it's likely that the Galaxy 3D will feature a powerful 1.2GHz Samsung Exynos chip.
That's still just a rumor, so even if true, the hardware in a possible final version of the Galaxy 3D might be different. In either case, by launching a 3D handset later than the competition, Samsung can rely on a more mature software (the Galaxy 3D is rumored to feature Android
2.3
Gingerbread
), but most importantly – on more 3D content as currently suitable content has been sorely missing on both the LG Optimus 3D and HTC EVO 3D.