Samsung GALAXY Nexus launch kits hit Verizon
26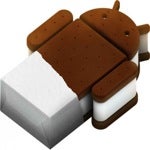 Now that a
December 9th launch date for the Samsung GALAXY Nexus
is beginning to come into focus, the shipping companies have been busy moving all things GALAXY Nexus from warehouse to individual stores. For example, one of our loyal readers sent us a picture of what he calls the
Samsung GALAXY Nexus launch kit
which he claims was received by his Verizon location today. You might note the Verizon logo in the lower left of the larger booklet.
Recently, we reported that Verizon third party resellers would be
launching the Samsung GALAXY Nexus on December 9th
. This has been confirmed by a tipster who works as a rep for a Verizon indirect reseller and was told today by theirVZW Account Manager that the phone will launch on December 9th.
So we tip our hat to our tipsters who are giving us the reports from the frontline, all of which suggest that on Friday, those who want the Samsung GALAXY Nexus will
have the opportunity to pick it up
.
Thanks again to our anonymous tipsters!