Samsung Droid Charge 4G LTE speed tests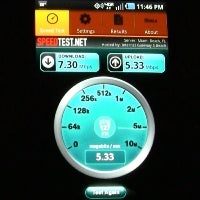 Since the
Samsung Droid Charge
is now the second 4G LTE smartphone for Verizon Wireless, we were interested to see how its web and data speeds would compare to the HTC ThunderBolt.
We ran the SpeedTest.net app on both devices, and connected to the Miami, Miami Beach, and Naples Florida servers. The Samsung Droid Charge got on average
4-6 Mbps download and 3-4 Mbps upload
, while the HTC ThunderBolt showed slightly faster downloads at 5-7 Mbps. Please not that we had to use the older version of the SpeedTest.net app, as the new updated version is having issues and will only show downloads of 0.5 Mbps.
Up next we used the web browser, and loaded the PhoneArena.com web site. It took about
30 seconds to fully load
on the Samsung Droid Charge, but the HTC ThunderBolt was quicker at about
24 seconds
. One thing we noticed on the Droid Charge, was after we rotated the screen, so that web pages were in landscape mode, the browser began to lock-up and would not scroll (you can see this on the video below). But after we turned the phone off and back on, it seems to have resolved the issues, though we will keep an eye on it while we prepare our full review.