Samsung Continuum Hands-on
1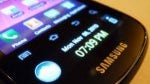 Fresh in the minds of consumers and still making the rounds on television through various commercial spots, the
Samsung Fascinate
stands to be one of the premier handsets currently being decked out on Big Red's Android lineup. In fact, it's actually standing prominently above water while still swimming swiftly as it attempts to keep pace with other high-end handsets like the
Motorola DROID X
. However, Samsung isn't waiting around to supplement their Verizon arsenal as they've officially unveiled the interesting looking Samsung Continuum during a press event in New York City tonight. Set at contract price of $199.99 after a mail-in-rebate, this smartphone is aiming to turn heads with its strikingly different secondary screen dubbed as the ticker display when it launches November 11th.
Since it's being classified as a Galaxy S device, the
Samsung Continuum
borrows heavily some design traits we've seen with its other brothers and sisters – such as a mostly plastic exterior that manages to keep things extremely lightweight. From a design standpoint, it pretty much stays faithful to previous handset with its build quality and construction. Although it looks more rounded on the edges and corners than any variant we've seen with the
Galaxy S
, it fortunately doesn't feel too large when it's actually held in the hand. Meanwhile, we're greeted to a primary 3.4" Super AMOLED display with WVGA (480 x 800) resolution that of course radiates some stunning looking saturated colors – but then again, it's more of the same. While on the rear, you'll find a 5-megapixel auto-focus camera with LED flash that has the ability to shoot 720p videos.
However, the most interesting portion of the handset is its secondary 1.8" display which has a resolution of 480 x 96 pixels and manages to display some useful information like notifications, time, weather, emails, text message, and stock quotes. Sure it might be seen as a novel feature, but it does present a quick way of getting access to relevant information without the need of fully powering on the handset. Moreover, it acts as a secondary function to other specific apps, like VZ Navigator, as it displays the next set of driving directions. Additionally, it'll even convert to some on-screen controls for the music player. And to conserve some precious battery, there are grip sensors placed on the sides of the handset where the ticker display is located. When you grip that particular area with your hand, it'll instantly power on the ticker display to offer you access to some pertinent information – all while keeping the main screen turned off.
Regrettably, the only sore spot that seems to blemish this otherwise intriguing looking handset is the fact that it's running Android 2.1 as opposed to the newer experience with Froyo. However, Samsung quickly pointed out that an upgrade would be made available relatively quickly. Granted though, some may not be too keen on seeing it running Samsung's customized Android experience, it manages to run effortlessly thanks to the 1GHz Hummingbird processor in tow. In the end, the Samsung Continuum's ultimate savior is naturally its ticker display which can be used for a variety of functions – but it'll be even more exciting to see how developers will be able to take advantage of it.
Recommended Stories