Samsung CEO says the company has to keep an open mind, senses tough economic situation in 2012
7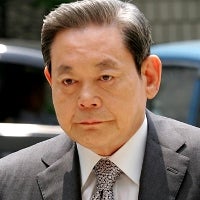 Samsung's CEO Lee Kun Hee did a little pep talk for the troops, and his speech was distributed to the media, highlighting that the electronics maker expects tough times for the world economy in 2012. Low growth is likely to plague the macro situation for the whole of this year, he said, which will inevitably affect demand for consumer electronics.
Lee also said "
Samsung's future hinges on new businesses, new products and new technologies. We should make our corporate culture more open, flexible and innovative.
"
Samsung is expected to post record sales and profits
from its mobile business in the holiday quarter. In Q3 it surpassed Apple as the world's largest smartphone maker, but the iPhone 4S wasn't introduced then. Samsung also revved up its profit margin to levels not seen for quite some years, and the trend is expected to have continued in Q4.
In related news, Samsung got the nod from the Korean government, to go and build a huge memory factory in China, on top of the
giant one it is already operating in Austin, Texas
, so the company seems optimistic about the future, just not so much for 2012.