SD Association devising a standard to include NFC chips in future microSD cards
2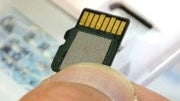 The SD Association, which is a standardization body for the SD memory cards, is planning to devise a standard to insert NFC chips in the next generation of SD and microSD cards. Technically
this is already been done by companies like Netcom
, but having a standard means future products will be uniform and play well with others.
The development of such smart-chip technology to be inserted into SD cards will be done in partnership with GlobalPlatform, which standardizes secure application management.
Now that would be an interesting development, since the billions of handsets without NFC connectivity will be graced with the dubious capabilities to spend your money even easier, just by tapping at the checkout counter.
We kid, NFC is useful for many reasons other than the
Google Wallets of this world
, such as serving like an access card for residential buildings or offices,
jumping on the subway train
, and snatching info off movie posters or landmark labels.
via
Engadget
SD Association and GlobalPlatform Collaborate to Enable New Smart Card Applications on SD Memory Cards

Agreement signals SDA efforts to extend SD standards into new markets
PARIS, Nov. 9, 2011 /PRNewswire/ -- CARTES & IDENTIFICATION BOOTH 3B140 -- SD Association will extend the utility of its world-leading memory card standards, giving thousands of consumer electronic device models used by billions of consumers more services and features by leveraging other global standards. Under this new strategy, the Association today announced a new collaboration with GlobalPlatform to include smart-chip technology in SD standards to enable mobile phones and other portable CE devices to provide authentication services with SD memory cards.
GlobalPlatform, which standardizes secure application management, and the Association will work closely to jointly build a secure, open, dynamic environment for deploying secure services in connected devices supporting SD standards. Standardized authentication services on microSD and full-size SD memory cards would transform consumers' mobile phones and CE devices into electronic wallets carrying cashless currency and paperless identification for use in making everyday purchases such as groceries or train tickets, or in receiving customized subscription services like mobile television. Identity features on portable devices would increase consumer control over their personal data compared to today's wallets typically bulging with cards. This would provide consumers with greater security than cloud-based solutions since the smart-chip enabled SD memory cards would only be active in an authorized device.
"Using the SD interface, with its ubiquitous presence of microSD memory cards and SD slotted devices, gives manufacturers, service providers and consumers of smart cards and smart card applications considerable momentum," said Joseph Unsworth, Research Director with Gartner. "CE device manufacturers have offered new innovations and extended the lifecycle and usefulness of devices for more than 10 years with SD standards, relying on the SD interface to respond to new market needs and opportunities for removable media."
Service and content providers, as well as CE manufacturers, could use the SD interface to offer new value-added services that are standardized and secure and use near-field communications to authenticate transactions and identity. SD standards are already supported in at least 80 percent of all mobile phones with removable memory to enrich mobile phone features and services.
"SD standards are proven to drive new applications in consumer electronics. The Association's strategy is to leverage SD standards to create opportunities in new markets, clearing market hurdles of price, size limitations and security, and enabling new technologies, " said Norm Frentz, SD Association president. "Collaborating with GlobalPlatform complements and accelerates our plans to support near-field technology and gives device manufacturers and anyone providing content or service to consumers the turnkey to mass market mobile commerce and smart IDs."
The Association and GlobalPlatform are both committed to specifications that ensure long-term interoperability through backwards compatibility.
"GlobalPlatform is very keen to work with the SD Association to leverage SD standards and be ready to respond to its requirements," said Gil Bernabeu, technical director at GlobalPlatform. "From the perspective of secure application providers, it is very important that the application performs as required and to the highest security standards, regardless of the secure element selected. GlobalPlatform identifies that SD memory card standards offer many storage choices and can support the delivery of a variety of services."
Opening new markets, creating convenient services
Offering near-field communications on microSD and full-size SD memory cards opens unlimited new business models for any authentication process, including:
* Mobile commerce. Consumers will use CE devices equipped with smart microSD cards as cashless currency, authorizing secure financial transfers to buy everything from groceries to subway fare and restaurant meals.
* Customized services. Content and service providers can customize features, offers and rewards automatically, eliminating manual entry of customer identifiers such as account or rewards card numbers. Car navigation services could provide customized concierge services including special pricing, reservations, coupons and other offers from locations near the car or at the destination. Airlines could automatically review customer accounts for upgrade and other frequent flier rewards.
* Secure access/Personal ID. Integrating smart SD memory cards into mobile devices makes ID and access solutions flexible and customizable to suit multiple applications.
* Secure voice. Smart microSD cards can support hardware encrypted voice services, a proven security method used by potential new markets for SD standards, including government, emergency services and corporations.
In each of these new business models, the microSD and full-size SD memory cards would provide the secure element, based on GlobalPlatform standards, for authorization purposes and would only be active in the authorized device.
World-leading SD standards are based on real-world market needs, giving manufacturers and service providers the flexibility and innovation to serve their markets. The digital security market for SD standards extends SD stakeholders beyond traditional markets into banking and other financial services, as well as mobile phone, device and access control manufacturing. Membership provides manufacturers and service providers with the complete SD standards that allow manufacturers to develop products and solutions designed to the standard, including support of other standards, and compatible with other SD devices.
SD Association
The SD Association is a global ecosystem of more than 1,000 technology companies charged with setting interoperable SD standards. The association encourages the development of consumer electronic, wireless communication, digital imaging and networking products that utilize market-leading SD technology. The SD standard is the number one choice for consumers and has earned more than 80 percent of the memory card market with its reliable interoperability and its easy-to-use format. Today, mobile phones, Blu-ray players, HDTVs, audio players, automotive multimedia systems, handheld PCs, digital cameras and digital video cameras feature SD interoperability. For more information about SDA or to join, please visit the association's web site, www.sdcard.org.
SOURCE SD Association