Galaxy S10's PowerShare reverse charging speed test with Samsung Buds and Watch Active
17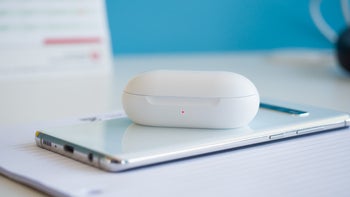 Just like the new
P30 Pro
, and the
Mate 20 Pro
before it, Samsung's fresh
Galaxy S10 trio
got reverse wireless charging capabilities that can top off little things like your cordless buds or wearables. Called PowerShare in Samsung's case, the technology can output up to 4.5W which is commendable as far as reverse charging goes. If you charge phones with a phone, that is, then it would be almost as fast as Apple's stock charger in the iPhone boxes (see what we did here?).
The new P30 Pro, on the other hand, outputs 2.5W and when we asked Clement Wang, Huawei's VP, she mentioned it is because reverse charging is simply meant to top off accessories and that's plenty for them. Hmm, we went, let's see how that reasoning goes by testing how fast Samsung's PowerShare would work on the gizmos you are most likely to use it with.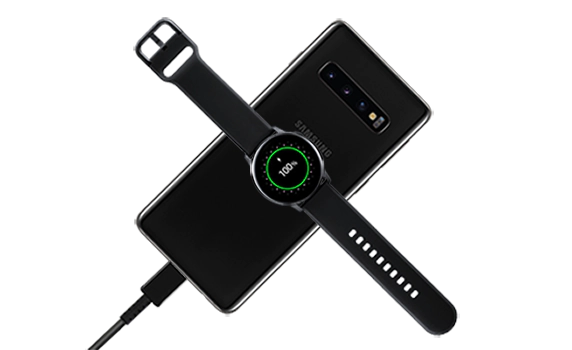 The Galaxy S10 models can charge another device while they themselves are being charged
Needless to say, The Galaxy S10e, S10, or S10+ reverse wireless is meant for charging things like the new Samsung Buds or Galaxy Watch Active on the go, rather than extending the mileage of your girlfriend's iPhone 8, but in all cases, it's nice to know that the option is there.
You won't get mAh-for-mAh transfer efficiency, of course, as some of the energy will be lost in the process, but still, the batteries of Bluetooth buds or smartwatches are so small, that the feature may actually useful without bringing you a range scare. That's especially true if you are charging from the larger
Galaxy S10+
with its 4100 mAh battery pack. Or is it? Let's see what we found out.
| PowerShare reverse wireless charging efficiency | Time to full charge from a depleted battery | Phone battery discharge rate |
| --- | --- | --- |
| Samsung Galaxy Buds charging case (252 mAh) | 3 hours and 2 minutes (Galaxy S10e with official Pattern Cover case) | 25% |
| Samsung Galaxy Buds (58 mAh each) complete charge by their case | 1 hour and 17 minutes | n/a |
| Samsung Galaxy Watch Active (230 mAh) | 3 hours and 26 minutes (Galaxy S10e with official Pattern Cover case) | 29% |
Samsung Buds wireless charging speed via Galaxy S10's PowerShare reverse charging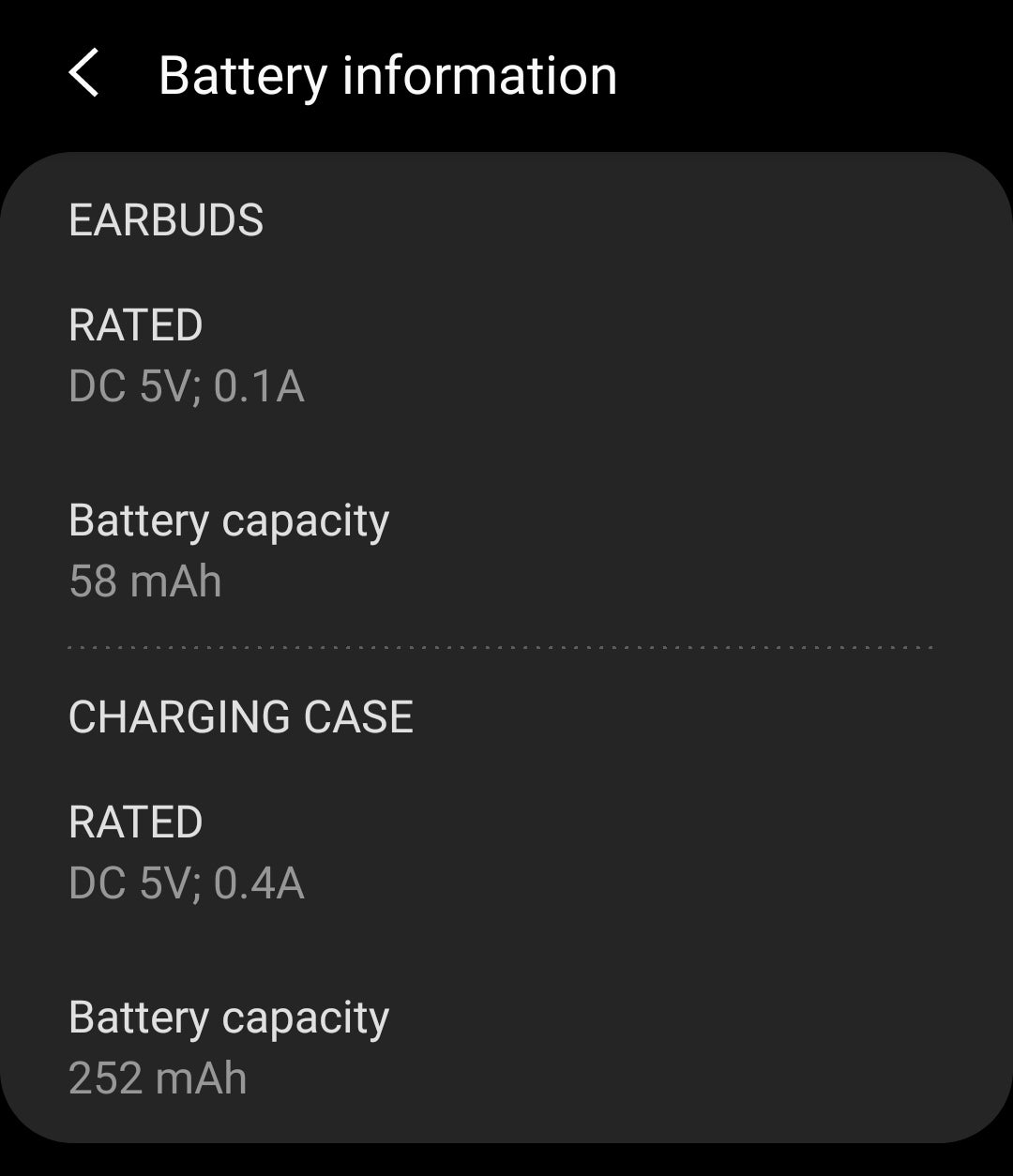 We drained the 252 mAh battery in Samsung's wireless charging case by constantly topping off Galaxy Buds until the case was completely dead, turned on PowerShare from the status bar switches, and placed it empty on the back of a Galaxy S10e. The phone was with a case, as that is the most likely usage scenario of Samsung's reverse wireless charging - in our case, the official Pattern Cover. In a short while, the case's LED indicator lit up in red, indicating that the case is charging.
In a bit over three hours, the light turned green, and the phone beeped, indicating a fully charged case. Indeed, the PowerShare stats showed 3 hours and 2 minutes for Samsung's Galaxy Buds wireless charging case to go from zero to hero. This gives you another 7 hours of listening time, says Samsung, after you charge two completely wasted Buds by placing them into their respective places in the case.
With each Bud carrying a 58 mAh battery that we drained completely, we then wanted to see how long it will take the case itself to charge Samsung's new wireless earphones to full capacity. Lo and behold, it took the case 1 hour and 17 minutes to transfer its charge to the Galaxy Buds via the cradle pins. Not too shabby, as that gives you roughly another 6 hours of listening time at mid-volume levels. The phone battery consumption during that PowerShare time was also not that terrible - the S10e pack went down about 25% in the process of completely charging the Galaxy Buds' case.
Samsung Galaxy Watch Active wireless charging speed via Galaxy S10's PowerShare reverse charging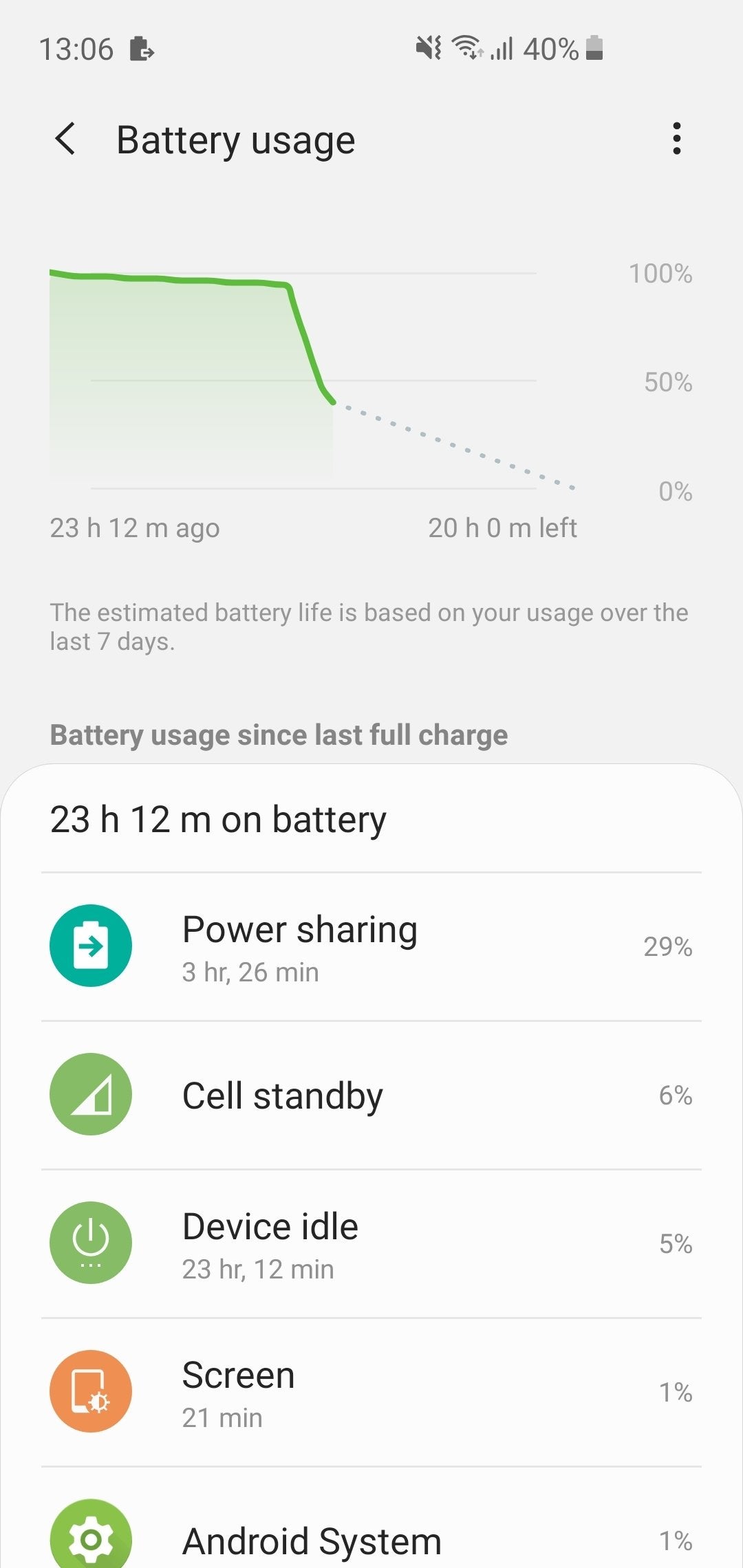 The Watch Active drained quite a lot of battery while being charged with PowerShare
Next in line was the other gadget that we figured will be the most likely to be charged wirelessly, the new Galaxy Watch Active that packs a 230 mAh battery cell. In comparison to previous devices, this battery is quite a bit smaller. However, the display isn't as big as previously and there is also a much newer processor – the dual-core Exynos 9110 – which is drastically more efficient.
As a result, battery life isn't taking that much of a hit and we still got a day or two out of it, depending on usage intensity. How long to bring it from a dead state to a 100% charge with just your Galaxy S10's PowerShare? Well, it's again a 3+ hours affair (3 hours and 26 minutes, to be exact) despite that its battery pack is a tad smaller than that in the Buds' case.
The battery of the phone itself, however, discharged faster than when we used PowerShare to top off the earphones' case. We placed the Galaxy Watch on the back of the phone together with its straps, of course, as that's the most likely scenario someone would slap it on there to charge wirelessly. They prop it up a bit compared to the completely flat bottom of the case, hence the distance from the coil may have been slightly higher. Alternatively, the Watch may simply be able to take in electrons much faster and induce higher efficiency losses in the process.
In any case, it gobbled more than 40% of the Galaxy S10e battery for the full charge in this real-life test - phone case, Watch straps and all - as you can see from the battery discharge graph here, even though the phone showed 29% PowerShare consumption in the battery stats.
Galaxy S10's PowerShare test, how fast is it?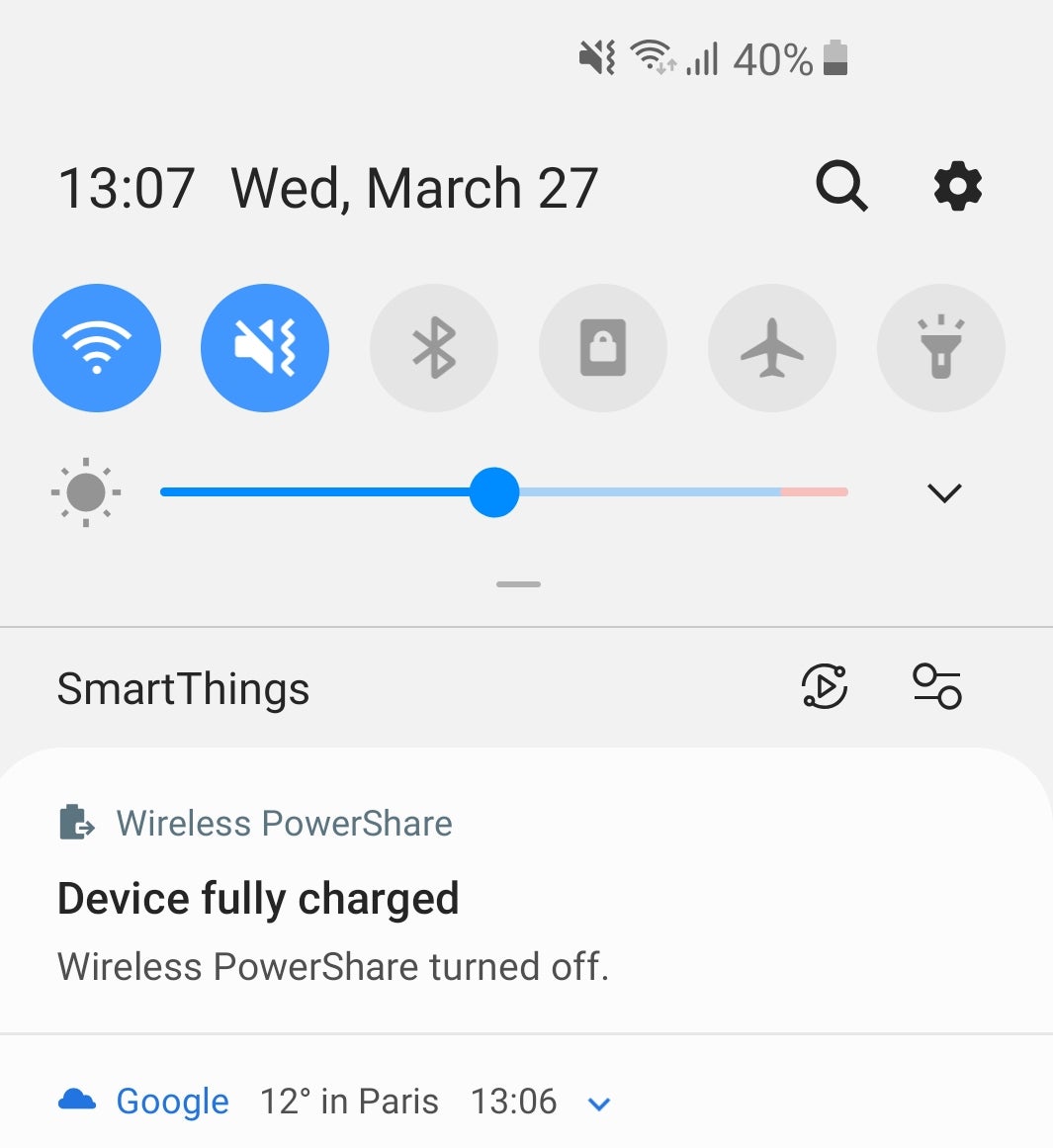 Long story short, the reverse wireless charging that comes with Samsung's new Galaxy S10 trio may be a godsend or a gimmick, as you can see from the charging speeds table. If you are commuting and forgot to top off your Galaxy Buds case, an hour on the back of the S10 will give you more than two hours of listening time.
We'd prefer more but at least your phone's battery won't be drained irreversibly (pun intended). Ditto for topping off your Galaxy Watch Active from dead state to being able to track your full weekend workout - you can but the wireless charging losses are a bit of a concern.
With more than three hours to charge the Galaxy Buds case or Watch Active completely, and unpleasant mAh-to-mAh transfer ratio, Samsung's PowerShare arrangement seems good for what it says on the tin - emergency situations when charging speeds and efficiency won't be that much of a concern, compared to pouring some much-needed juice into our irreplaceable accessories.