Russian man tries to steal phone from woman, messes with wrong one (video)
31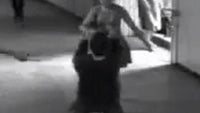 This is a video that should go viral. A Russian man enters the subway and sees a woman playing on her phone and no one around her.
A perfect opportunity to steal that phone
(we don't know what it was, but looks like a smartphone), isn't it?
Not really. What happens next seems straight out of Hollywood's movie studios. The angered woman turns to know karate and surprises the attacker with a kick in just the right place, and a swivel kick to lay him on the ground.
That's probably the most awesome video we've seen in a while,
take a look at how justice sometimes prevails
.
source:
Elite Daily