Rural Wireless group says that Verizon overstated its 4G coverage in certain markets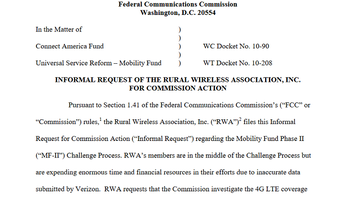 A filing made by the Rural Wireless Association (RWA) to the FCC says that Verizon "grossly overstated" its 4G coverage in certain rural areas of the country. U.S. carriers were asked by the FCC to provide the agency with maps and other data that show which areas of the country are covered by their 4G signals. At stake is the distribution over the next 10 years of $4.5 billion in Mobility Fund money earmarked for "primarily rural areas that lack unsubsidized 4G."
The RWA is upset with the data that Verizon turned over to the FCC because the alleged inaccuracies could prevent carriers in rural areas from receiving the funding they desperately need. If Verizon did overstate its 4G coverage, it would mean that the smaller carriers wouldn't be needed to cover dead spots in smaller areas of the U.S.
One example cited by the RWA in its filing is Verizon's claim that its 4G LTE network covers almost all of the of 14,778.47 square kilometers (5,706 square miles) of the Oklahoma Panhandle. But an engineering report requested by the Panhandle Telephone Cooperative, Inc. (PTCI), partly based on information available to the public, found that Verizon's coverage in the area was actually less than half the figure reported by Big Red. Verizon disagrees with the engineering report and states that it doesn't account for all of the carrier's cell sites that provide a signal in the Panhandle. Because the area involved is only 34 miles wide, some of the cell sites employed in the region by Verizon are actually outside of the Oklahoma Panhandle.
"RWA's members are in the middle of the Challenge Process but are expending enormous time and financial resources in their efforts due to inaccurate data submitted by Verizon. RWA requests that the Commission investigate the 4G LTE coverage claimed by Verizon and require re-filing of Verizon's data to correct its overstated coverage."-Rural Wireless Association
PTCI says it is spending $1 million on research, half of which it says could have been avoided if not for Verizon's overstated claims. Another rural wireless firm, Pioneer Cellular, also says that it will spend $1 million to challenge Verizon. The RWA wants the FCC to force Verizon to restate its coverage in the area, which could provide affected rural carriers with the millions of dollars they need to operate in the region. You can check out the filing from the RWA by clicking on the sourcelink below.