Runtastic Moment smartwatches officially unveiled: analog watches meet fitness-tracking capabilities
5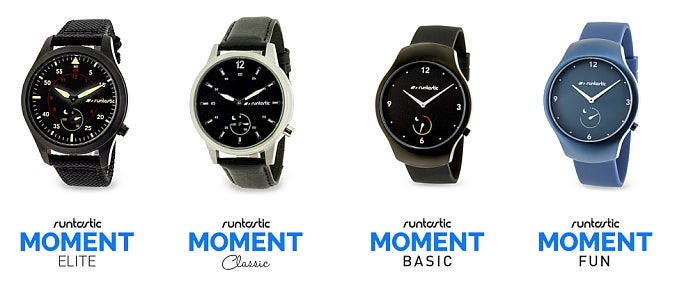 Runtastic, an Austrian company that most of you guys probably know as the maker of the Runtastic fitness app for Android and iOS, has just announced a new smartwatch series called Runtastic Moment.
Unlike most smartwatches, the Runtastic Moment wrist pieces do not come with a display. Instead, they are slightly updated analog watches that can keep track of your fitness activities. While Runtastic's watches do not come with heart rate sensors, they are otherwise capable of tracking your steps, the number of calories you've burned, the total active time, as well as your sleep patterns. All of this data is collected by the watch and synced with the Runtastic software on your phone through Bluetooth. A small LED on the watch face will indicate how close you are to reaching your goal.
Those of you who like to swim a lot will love the fact that the Runtastic Moment watches are waterproof up to 100 meters. Unfortunately, the watches don't track swimming just yet, but the manufacturer said that swim stroke tracking could come at a later time through a software update.
The real beauty of having an analog watch with only limited smart capabilities is that the battery life is amazing, since the battery doesn't have to fuel power-hungry components such as high-resolution displays and quad-core processors. Runtastic claims that the Moment watches should be able to last up to a whopping 6 months with a standard watch battery.
The company announced four devices in its new smartwatch series, but most of the functionality remains consistent. The cheapest models are the Runtastic Moment Basic and the Moment Fun, watches that come with aluminum cases and silicone straps. The only difference between the Basic and the Fun is that the former is slightly larger. If you're willing to spend a bit more to get that premium feel, Runtastic also offers the Moment Classic and the Moment Elite, which sell for $180 each.
As smartwatches with displays and quad-core processors and so on have yet to take off in terms of sales, it looks like an increasing number of companies are coming up with models that are basically analog watches with fitness-tracking capabilities. Runtastic, a company that was recently acquired by Adidas for $239 million, is just one of the companies that focus on providing classic watches with minimal updates for fitness buffs.