Rumors rile up yet again for an entry-level 'iPhone nano' for this year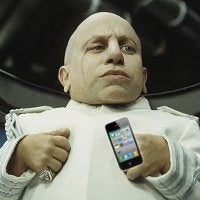 Although it's
not something technically new
, especially since we've been hearing about it
since the release of the original iPhone
, but rumors regarding a so-called entry-level "
iPhone nano
" have risen from the depths of the deepest water yet again.
This time around, the juicy tid bits come from China Times, as they've been alerted by unnamed sources within Apple's supply chain about this iPhone nano model. From the sound of it all, Apple is looking to expand its presence in the entry-level market, and seeing that the $375 iPhone 3GS is regarded by some as still being a pricey investment when compared to other low-end Android smartphones, Apple is believed to move swiftly by introducing this nano-sized iPhone soon.
In fact, it's possible that we will see this new low-end model hitting
sometime later this year
, which will more than likely be in conjunction with the release of the sixth-generation iPhone. On the other hand, we've heard
several rumors in the past regarding this magical nano-sized iPhone
, but as we've constantly seen, they haven't panned out to be true.
Nevertheless, the most logical result is Apple doing nothing more than tweaking the manufacturing process to help further reduce the cost of the current iPhone model. Still, it would be beneficial to introduce a new size to possibly entice other handset owners to make the switch – even if they feel that the current iPhone is too large for them to handle.
source:
China Times
via
BGR