Rumor: watchface outs Android M as Android Milkshake?
18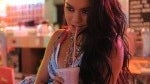 Does Android M stand for Money, or for Milkshake?
According to this eagle-eyed Reddit user's sighting, it's the latter, not the former! Check out the watchface on Google's David Burke's Android Wear smartwatch!
Despite the image distortion, one can clearly make out the milkshake painted on it! That's as easter egg-ish as Google can possibly get at an I/O keynote.
Of course, this could very well be Burkes's unorthodox choice for watchface at play here, rather than the Android naming conspiracy that ensues this very moment. But if Android M becomes Android Milkshake anytime soon, bow the tip of your fedora to willnuckles at /r/Android!
Images courtesy of The Verge.