Rumor says new Nexus 10 with beefed up GPU coming at MWC
28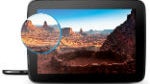 This one is an interesting rumor, but not one that we have much reason to really believe. Word has it that Google may be planning to unveil a new version of the
Nexus 10
at Mobile World Congress (MWC) next month, and this time the tablet may have a beefed up GPU.
The Nexus 10 was one of the best tablets released last year, but one issue was that the processor couldn't always keep up with the task of pushing the tablet's insane 2560x1600 resolution. The original Nexus 10 is powered by a dual-core 1.7GHz Cortex A15-based Samsung Exynos 5 chip, and quad-core Mali-T604 GPU.
The rumored new Nexus 10 is said to be upgrading the GPU with an 8-core T628 GPU, and could possibly be the first product to feature the the Mali T678 GPU chip. Supposedly, the guys at
Bright Side of News
got to play with a prototype of the new Nexus, and say that the performance difference is "night and day".
There's no guarantee that the rumor is true, but it could help explain why the Nexus 10 has been in such short supply. Maybe Google has been limiting the old production to work on the new model.