Rumor says iPad 5 to be completely redesigned and coming in Q3
46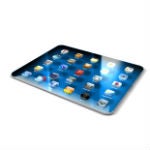 There have been a bunch of rumors recently about the next generation iPad mini, but not so much about the full-sized iPad. So, if you've been wondering what the rumor mill has to say on that front, look no further. Apparently, the rumor is that the next generation iPad (aka iPad 5) is going to be "completely redesigned" (whatever that means) and will be released in Q3 of this year.
The rumor comes from Taiwan-based market research firm TrendForce, and seems to corroborate the idea that the iPad 5 will have a
smaller bezel
similar to the iPad mini. We're not sure that really constitutes a "complete redesign", but when it comes to Apple, anything that doesn't look like last year's model usually falls into that category. It doesn't sound like it will be a redesign along the lines of the iPhone 3GS to iPhone 4, or the HTC One X to HTC One, but it will get Apple to its eternal goal of "thinner and lighter".
The firm also says that the iPad 2 will be retired with the introduction of the iPad 5 (a completely logical assumption), and that while the iPad mini will make up about 65% of Apple tablet shipments in the first half of 2013, shipments will balance out to 50/50 once the iPad 5 is released.