Surprise! iPad 5 will be "lighter and slimmer" with a smaller bezel
55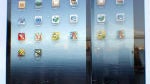 Oh wait, sorry. That's not a surprise at all. The top two features of every single Apple mobile device yet has led with "lighter and slimmer" or some thesaurus-aided combination of those words. We're pretty sure those words are permanently tattooed on every new Apple hardware designer. Still, we're at least getting a bit more info on how that "lighter and slimmer" will be attained, and it has to do with a smaller bezel.
The title image for this post was taken from an earlier article that we shared with you, which had a
concept rendering
of an iPad with a smaller bezel, but it turns out that image may be more accurate than you'd think. The new info comes from KGI Securities analyst Ming-Chi Kuo who is predicting that this year's iPad will be "significantly lighter and slimmer", and that will be due to the smaller bezel.
The smaller bezel was something we saw first on the iPad mini, and it looks like its big brother will getting the same treatment. There had been rumors that the
next iPad would hit in the Spring
, but Kuo thinks that it's more likely the next iPad won't release until the fall.