Rumor claims iPhone 7 may add second speaker in place of the headphone jack
51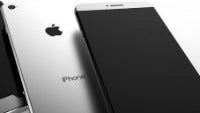 It seems like a done deal that Apple will be
ditching the headphone jack
in the iPhone 7 and there have been rumors that Apple had some sort of plan to
improve the sound quality
of the device itself. Now, there is a report that claims at least part of that plan might be to add a second speaker to the iPhone 7.
According to a Barclays research memo written by analysts Blayne Curtis and Christopher Hemmelgarn, Apple will use a second amp built by supplier Cirrus Logic to power the second speaker, which will likely be placed in the same spot as the removed headphone jack. This means that the iPhone 7 wouldn't the best stereo sound, despite having two speakers because they would both be on the bottom edge of the phone. However, the report also noted that the iPhone 7 will not use dynamic noise cancellation, but use a basic digital codec instead, leaving built-in noise cancellation to be one of the upgrades made in the iPhone 7s.
Another interesting part of the report is regarding what might come packaged with the iPhone. Earlier rumors had guessed that Apple might include Bluetooth earbuds, but the new report makes more sense by saying Apple will actually include cabled earbuds that connect via the Lightning port. It would certainly be more like Apple to support its own tech and not a standard like Bluetooth.