Rumor: OnePlus 5T to launch on the 16th of November as an Amazon exclusive
4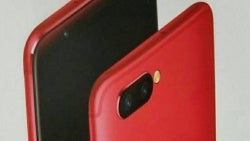 So, there have been a lot of rumors around a possible new OnePlus phone recently. These stem from the fact that the
OnePlus 5
is suddenly
out of stock
and can't be bought, the fact that OnePlus co-founder Carl Pei and CEO Pete Lau have been teasing a new camera with some
cryptic tweets
, and that it was around this time last year when the
OnePlus 3
was discontinued and the
OnePlus 3T
was introduced. It is speculated that the new handset would either be called OnePlus 5T or OnePlus 6, jumping up a number entirely.
What do the rumors say so far? The major upgrade to the OnePlus 5T would allegedly be a new, bigger screen. The phone would remain in the same form factor, as the display will just adopt the recently-popular 18:9 aspect ratio and thin out the bezels on the top and bottom.
Check here
for a full list of rumors and speculated features.
A recent photo, which allegedly shows us a slide that is to be placed on the Amazon website, shows us that the OnePlus 5T is about to be introduced in a live event, which will take place on the 16th of November. More interestingly, the slide says Amazon Exclusive, but that could easily apply to just certain markets. More on that below.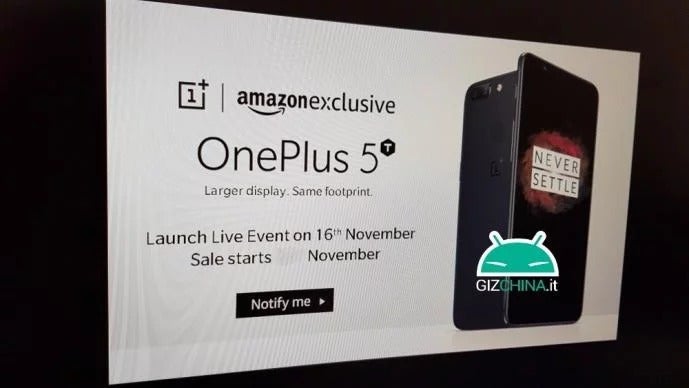 Another thing to note here is the text, which reads "Sale starts on [blank] November". This suggests that the phone will start selling at a later date than the actual announcement event. If that's the case, this leak could very easily fall in line with previous leaks that the OnePlus 5T would start selling in late November.
Still, it's worth noting that the slide we see in this "leak" is very, very similar to the Amazon Exclusive listing of the OnePlus 5 that's found on Amazon.in. Is this a photoshopped hoax or is there a dash of truth? Well, we'll be keeping an ear to the ground.