Rumor: Apple suppliers say the large iPad Pro is coming in a couple of months!
13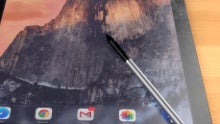 We've been hearing rumors about a super-sized iPad for almost a couple of years now and, to some, it may seem like a myth. The device was pegged for announcement a couple of times for the past 12 months, yet, with each Apple event, the leaksters were proven wrong.
This year, however, we're hearing a mix of different rumors, which, when combined together, draw a pretty believable picture. First, we got a report claiming that the 2015 iPad mini 4 will sport
the same powerful hardware specs
as the 2014
iPad Air 2
. That sounds realistic – the mini line has always lagged behind a bit from the flagship 9.7" slates, and the
mini 3
introduced absolutely no upgrade, aside from the Touch ID and gold color option.
Then, another whisper came about, claiming that the Air line will
not see a 3rd iteration in 2015
. This may sound weird, but in the context of a possible iPad Pro launch (the rumored large-screen tablet), it just might make sense. The tablet market is certainly not flourishing right now, and while Apple has had the good fortune of the iPad still being successful, compared to the competition, we'd certainly see good reason behind a decision to postpone an iPad Air 3 in favor of a Pro - especially since the Air 2 is still the most powerful Apple mobile product, so it can definitely take a back seat and hold out one more year.
Today's rumor allegedly comes from Apple supply chain leaksters. It claims that the iPad Pro is, indeed, about to start being produced in September, but mass-production is planned for October. The leak comes from the display line, it seems, as it outlines the fact that the screens will be sized at 12.9" and made by Sharp. We assume that, if this report is true, the September batch will be used for test and demo units, whereas the actual sales should kick-in near the end of October or beginning of November.
As far as what to expect from the alleged iPad Pro – we don't have much. Some reports of a
Force Touch-assisted stylus
have been floating around, which sounds quite curious. Would the tech be used to simulate a real pen and paper experience, or just for tap feedback? Another question that circulates in our noggins is – since the supposed iPad Pro looks so much like a Microsoft Surface Pro competitor – would it still rock iOS, or would Apple give it a light version of OS X to prance around with? We guess that if such a leprechaun of a tablet exists – we will know in the next couple of months. Stay tuned!