Rumor: Amazon looking to acquire Texas Instruments' OMAP mobile chips family
1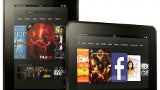 Whaddya hear, whaddya say - Amazon is rumored to get the OMAP mobile chips family off of Texas Instruments hands.
TI recently said it will diminish the efforts and resources it puts towards making of its mobile silicon
under shareholder pressure, concentrating on its analog bread-and-butter.
The industry vultures immediately started circling around the OMAP carcass, with Apple luring engineering talent away from the chip maker, and now Amazon trying to secure its mobile future, or at least the silicon that will power it, all for itself.
Such a synergy makes great sense for Amazon, as Apple and Samsung are designing their own chips, for example, tailoring them to their own requirements and specifications. The giant online retailer was recently cited as
part of the Gang of Four by Google's Eric Schmidt
, that will shape the mobile future, and the Kindle Fire uses TI's OMAP chipsets, so there might be some credibility to that acquisition rumor.