Rugged Doogee S50 braves the elements with tough exterior and a huge battery
3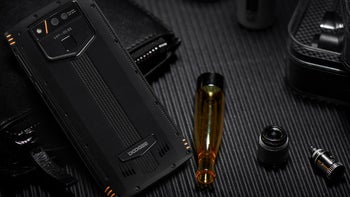 This story is sponsored by Doogee. PhoneArena's opinions in this article have not been affected in any way!

What's durable, capable, and won't break the bank for you should the elements take the best of it? That's the Doogee S50 fitting those descriptions, rushing to occupy the niche of affordable rugged handsets that have little to do with the puny protected phones of yesteryear, which sported tough enclosures, but feeble internals.
The S50 comes drop-tested and with water-resistant IP68 certification, but packs a punch with an octa-core processor, clocked at 2.5 GHz, a 6 GB RAM / 128 GB storage memory combo, and a dual 16 MP + 13 MP camera on the back. A phone made for the wilderness should have the battery capacity to keep you away from the charger for at least a few days, and the 5180 mAh battery pack comes to authorize its weekend warrior endurance. It is paired with a fast 2A charger, too, but, at that capacity, don't expect that it will be juiced up in an hour.
Coupled with a 5.7" HD+ display, however, this battery capacity should last you more than a weekend - we are looking at a 3-4 day stretch here, and that's where the S50 may outshine the competition. Granted, the screen resolution is the disappointing part when it comes to specs, but Doogee had to make a tradeoff somewhere to hit the $299 price point that the S50 is available for at the link below.
The phone maker rightfully concluded that the S50 will pique the interest of the oitdoorsy types, for whom watching hi-res HDR videos, or reading long articles in bed, is not of the highest priority on a phone, so it skimped on the resolution for the sake of pricing and battery life, and the resulting S50 fits that bill very well. Its ingress protection grade means that it will survive in up to 5 feet of water, and is impenetrable to sand and even dust particles, for instance. The bolted housing looks very sturdy, yet stylish in its own rugged way, with faux leather grip on the back, and rough rectangular forms, aimed to prove that this is not your cutsy thin daily driver of a phone, but a handset made for more serious challenges.