RootMetrics: Verizon is the top network dog so far in 2016
4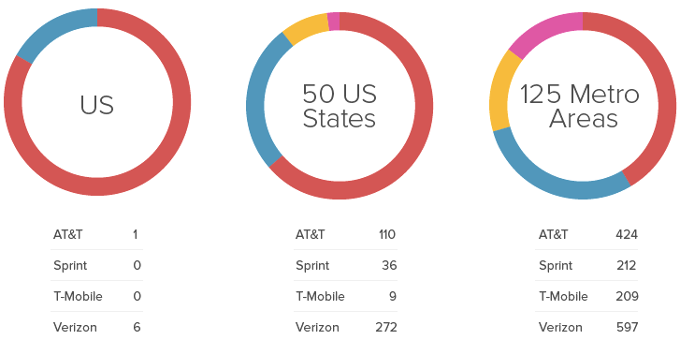 Verizon took the helm in H2 2015 as well
RootMetrics, a mobile network performance subsidiary of IHS, one of the largest research firms globally, has given us a sneak peek of its verdict on Verizon, AT&T, T-Mobile and Sprint's speed and reliability report for the first half of the year that will be out later this summer, and so far it's a win for Verizon, just as in the second half of 2015.
The cell network testing arm of IHS measures network reliability, network speed, data performance, call performance and text performance in 125 key markets around the US. RootMetrics has managed to cover 104 out of those 125 markets so far in the year, and in 79 of them the winner is either Verizon outright, or it is tied for the top spot.
AT&T ranked top in 45, T-Mobile in 30 markets, while Sprint took the torch only in five of them. RootMetrics will be releasing the final report for H1 2016 in a few weeks, but so far it is again looking pretty good for Verizon's network speed, coverage and reliability.
Recommended Stories