Rolling Stone magazine ready to make a debut on the iPad
4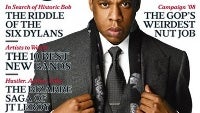 Probably the most popular music-centric bi-weekly magazine Rolling Stone and its publisher Wenner Media have been among the most conservative traditional media, hesitant to join
tablet publishing
due to far from ideal terms and conditions.
Now, however, Wenner has made a 180 degree turn and said that a $9.99 application that will accompany its
"The Beatles: The Ultimate Album-by-Album Guide"
book. The new app is arriving on the iPad tomorrow, December 1st. The release will currently be limited to iOS and the iPad, with no Android version. It comes with the same 122 pages with more than 60 photographs, but it also features a redesigned, tailoler to a tablet, looks and samples of songs. It's also augmented with interviews by various people from the industry and a guide to tracks left out of albums.
The
Rolling Stone magazine
and US Weekly will arrive on the tablet later, in early 2012.
A couple of months ago Jann Wenner who found the Rolling Stone magazine said that most publishers are
"prematurely rushing [to create tablet versions of their titles] and showing little confidence and faith in what they've really got, their real asset, which is the magazine itself."
His main point was that printed media was not being immediately replaced.
We don't really know what made Wenner reconsider its position so quickly. It's possible that the addition of Newsstand in iOS 5 has made some difference, pushing other digital news outlets numbers up. Do you personally use your iPad to keep up with the latest magazines?