Robert Scoble says "Apple has slipped", so he's switching to Android
53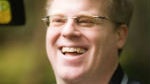 Robert Scoble holds a lot of sway in the tech world. There's a reason why Scoble can take over any social network you follow him on, if you don't properly sequester his posts: because people listen to and trust his opinions. While some consider Google+ a "ghost town" (because they don't understand the service), Scoble has amassed over 3 million followers. What he says holds weight, and Scoble is now saying that "Apple has slipped", so he's switching to Android.
In a Google+ post today, which was intended as a response/apology to Matthew Ingram, Scoble reiterated the news that he is "no longer an Apple fanboy", and that he is in the process of switching to Android. Part of the reason for the switch is that Scoble is one of the lucky few (read wealthy enough to afford a $1500 developer unit) who is going to be getting the early build of Google Glass. But, Scoble had more reasons for the switch:
Apple lately HAS slipped in my eyes and there are lots of examples how (Google Now, Waze maps, and tons of apps that are here already and coming on the Android platform, like SwiftKey keyboards) are examples of why I'm getting ready to leave the Apple platform and switch to Android.
Scoble doesn't want people to think that things are all great though, saying that there are things he misses about Apple products "like AirPlay and better video compression, not to mention most apps are smoother and have fewer problems on iOS."
Still, Scoble is a big name to be making the switch, and he's not the first, as Guy Kawasaki also switched because he believed that Android had leapfrogged iOS. It'll be interesting to see if Scoble sticks with Android as his primary driver throughout the year.