Robert Downey Jr talks HTC One M8 design in a boring new ad
23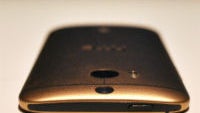 It takes some serious marketing power to be able to rival the kings of the ad space - Samsung and Apple. HTC has been hoping that having Robert Downey Jr as its spokesman for the HTC One would be a good step towards making its device a bit more visible to users. Unfortunately, the marketing team also seems to think that having RDJ is enough, and they don't need to bother coming up with anything creative. At least, that's how it feels with the newest ad for the M8.
The ad is one minute long, and the phone is on screen for exactly five seconds (and the first couple seconds, the phone is out of focus.) The ad is literally just RDJ standing in a bare studio, and the majority of the time, he talks about how the last HTC One won the best phone award at Mobile World Congress two years in a row. The best thing he says about the HTC One (M8) is that it is "somehow even better" than the old HTC One.
Yep, not kidding. That's the entire ad. This is what happens when you spend your entire marketing budget on the face and don't leave anything left over for the creative team. Still, the HTC One (M8) is a pretty awesome looking phone, so maybe customers will notice anyway.