Rewind allows you to take the perfect group photo with your handset
2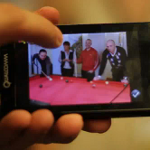 Have you ever taken a series of photographs of a
group
with your cell phone and wished that you could take the picture of David from the first snapshot, together with the picture of Audrey from the third photograph, and together with the pictures of Michael and Amber from the fifth photo, put it all together into
one perfect picture
? With the Rewind technology made by Scalado, this is possible.
Rewind allows the photographer to
cherry-pick
faces from a 5 picture burst and the selected pictures are merged into one photo that can be
shared
immediately. And Scalado is working on a new version that will have smile and blink detection and will even select which
version
of each face to use in the final photo.
One problem is that Rewind requires a
powerful
processor which is why it is being tested on Qualcomm's $1350 Mobile Development Platform phone that has a 1.5GHz second-generation Snapdragon processor. And
don't
expect to find Rewind as an app in the Android Market-right now Scalado is planning on having the technology only made available to OEMs for inclusion in smartphones. No word on when we might see a new handset with Rewind aboard.
source:
AndroidandMe