Researcher says Android will overtake iPad soon, doesn't understand "Android"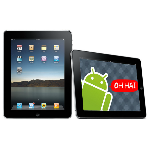 It almost seems inevitable that Android tablets will take over the majority of the tablet market sooner or later. As with phones, it is the relatively few, but expensive options from Apple compared to the multitude of Android tablets that hit every price point and market segment. Eventually, the numbers support Android. The question isn't really if, but when the change will happen. Javelin Strategy & Research thinks it will happen very soon, but we're not sure we agree with the counting methods.
You'll also notice that we put Android in quotes. That's because for some reason Javelin counted Kindle Fire tablets and B&N Nook tablets as Android, which we find misleading. Whenever Google gives numbers for the Android ecosystem, those numbers are for Google Android devices only, and do not include non-Google Androids (NGAs) like the Kindle Fire. The Kindle Fire or Nook may run Android, but it is a full fork and is
divorced from the main island
of Google Androids. As such, we think it should be kept separate in numbers like this (just as Google does).
As such, it's hard to say exactly what the surveys found. The Kindle Fire is separated out as 10% of respondents, but the Nook tablets are included in the 32% given to Android tablets, so it's hard to say what the real numbers would be. Either way, having upwards of 25-30% of the market as Google Android tablets would still be a pretty solid number given the slow growth of the Android tablet market.