Republic Wireless to offer you all the talk, text and data you can eat for $20 a month
6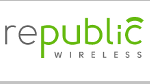 Looking for a way to fight back against high monthly carrier invoices? Starting November 8th, a new company called
Republic Wireless
will allow you unlimited talk, text and data over your Android device for
$20 per month
. How do they do this? The company, a part of Bandwidth.com, uses a technology that is embedded in some Android smartphones similar to UMA. This technology allows users to make phone calls over Wi-Fi. Outside of the Wi-Fi area, calls will be run over Sprint's cellular network using minutes bought in bulk by Republic Wireless. The company is negotiating with other carriers as well.
The advantages to this service are clear, but there are some caveats. You are locked into the use of
one specific Android model
, described as an entry level
LG Optimus One
which will automatically switch the phone back and forth between Wi-Fi and a 3G network. You will be able to use Wi-Fi for both talk and text and there will be no contract to sign which means no Teremination Fees but also means no subsidized new handsets. You can leave your email at the sourcelink to receive a notification and a special offer when the service is ready to rollout.
Republic Wireless will probably not draw many customers away from the top four U.S. carriers. Customers of
AT&T
,
Verizon
,
Sprint
and
T-Mobile
usually are those who don't mind locking in for 2 years of higher priced service in exchange of paying less for the latest and greatest device. Instead, the $20 unlimited monthly pan could put a dent in pre-paid carriers like
MetroPCS
. The latter
has done well lately by offering low to mid-level Android models
with plenty of features and charging a monthly rate for service. For those smartphone users who just want some of the basic Android features and aren't interested in owning the newest models, Republic Wireless could end up saving them plenty of money in an economy that shows no signs of turning.
source:
RepublicWireless
via
TechCrunch