Report says Apple iPhone 5/iPhone 5s were the most used iPhone models in the U.S. during Q4 2015
25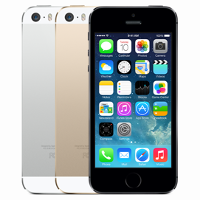 Device Atlas' comprehensive report for the fourth quarter of 2015 reveals that based on the amount of web traffic, the
Apple iPhone 5
combined with the
Apple iPhone 5s
were the most used iPhone models in the U.S. from October through the end of last year. That was followed by the
Apple iPhone 6
and
Apple iPhone 6 Plus
.
That was the case throughout much of the world. While the
Apple iPhone 6s
and
Apple iPhone 6s Plus
combination was next in the U.S., in most European countries the
Apple iPhone 4
and
Apple iPhone 4s
were used to generate more web traffic than the most current iPhone models. In the states and overseas, the
Samsung Galaxy S5
was the most widely used of Samsung's Android powered handsets, topping the
Samsung Galaxy S6
and
Samsung Galaxy S6 edge
in the amount of web traffic it was responsible for.
Based on web traffic, iOS use gained in the U.S. during the first three quarters of last year, before having a flat fourth quarter. Android web traffic on the other hand, declined from January through September. For the period starting in October and running through December, Android web traffic in the U.S. was flat. From the beginning of the year through the end of 2015, the percentage of mobile web generated by iOS rose 4.86% over the previous year. Android users were responsible for 4.68% less web traffic during the 12 months from 2014 to 2015.
According to Device Atlas, Apple accounted for 57.35% of U.S. smartphone sales in the fourth quarter. Samsung was next with 10.36% of sales. Verizon (8.27%) and AT&T (4.31%) were third and fourth, respectively. With 3.71% of Q4 U.S. smartphone sales, LG was fifth.
Mobile safari was the top browser in the states during the fourth quarter, carrying 55.98% of mobile web traffic in the U.S. during the period. Chrome was next, carrying 38.31% of the mobile web load in Q4. The Android Browser was responsible for 3.86% of mobile web traffic during the three months, while IE Mobile delivered 1.01% of mobile internet traffic. That left Firefox (.47%) and UC Browser (.06%) at the bottom.
Check out a number of interesting graphs containing oodles of information by clicking on the slideshow below.
Device Atlas releases information about mobile use in Q4 2015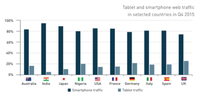 source: DeviceAtlas