Report: Foxconn looking to build the Apple iPhone in India
25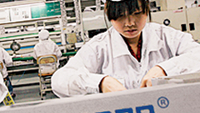 Contract manufacturer Foxconn is looking to build a factory in India that would churn out future versions of the Apple iPhone. For Apple, it could help give a boost to iPhone sales in the country. Currently, Apple's 10% market share trails Samsung and various domestic manufacturers (like Micromax) in the red hot Indian smartphone market, which is the third largest in the world. The country has the second most mobile phone accounts after China. Cisco predicts that the country will be host to 650 million smartphones and 18.7 million tablets by 2019.
Manufacturing the iPhone in India could also lower the price of the handset in the country since Foxconn would be paying lower wages to its Indian employees than it pays to those toiling in its Asian factories. In addition, the price of transportation would be much lower for Indian consumers if a factory in the country were to produce the iPhone. Currently, the price of a 16GB
Apple iPhone 6
in India is the equivalent of $688 USD. A 32GB
Samsung Galaxy S6
costs $625 USD. This difference could be narrowed if Apple's smartphone were to be produced locally.
Foxconn did have a factory in India at one time, but closed it down when Nokia sold its Devices and Services business to Microsoft last year. A new factory could grab some business from Xiaomi. Already a Foxconn customer in Asia, Xiaomi has started selling its products in India and has met with success in the country. Subhash Desai, Industries Minister of Maharashtra, told the media that Foxconn is sending "
a delegation
" next month to look for a suitable location for its factory.
"The smartphone boom in India indicates the time is just right to focus on expansion plans and increasing volume in India to a comparable level with the China market in the next five years."-Sky Li, vice president, OPPO
While India doesn't have local suppliers to make sourcing components easy, local businessmen believe that once global companies start contracting to have their devices assembled in India, suppliers will enter the country. Devendra Fadnavis, India's Chief Minister of the state, was
the source of a similar report in May
.
Thanks for the tip!
source:
MoneyControl.com