Remember the Nokia Lumia 2020 tablet that never was? Catch a rare glimpse of it in this photo!
11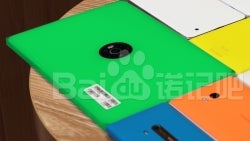 Microsoft might be treating its smartphones with the kind of disheartened shrug an exhausted parent gives to their underachieving offspring now. But not long ago – think 2013-2014, new Lumia phone announcements were frequent and varied. This period saw leaks for some Windows mobile devices that Nokia and Microsoft almost completed, but ended up not releasing. Two such products are the Lumia McLaren flagship phone, and the Lumia 2020 tablet – both of which coincidentally showed up, old but not forgotten, over the past few days.
User @nokibar on China's Baidu social network published an interesting photo, showing the backs of several Lumia devices, not all of which saw the light of day. The unreleased Lumia 850 and Nokia XL 2 can be seen, but the most notable among them, and painted neon-green, is the elusive Lumia 2020 tablet. First surfacing at the end of 2013, it was going to be a Windows RT slate with an 8.3-inch display, a Snapdragon 800 processor paired with 2GB RAM, and cellular 4G LTE connectivity. It was also going to feature a rear camera with ZEISS optics and PureView imaging technology. Not too shabby, for the time!
The 2020 was scheduled for announcement at MWC 2014, but when the day came around, the tablet was nowhere to be found in Barcelona. It won't be found outside of photos like the two below either, for Windows RT right now is just a distant, not particularly glowing memory of a dazed and confused Microsoft debuting on the consumer devices market.
ALSO READ