Remember the Chicago newspaper that replaced its photographers with the Apple iPhone camera?
27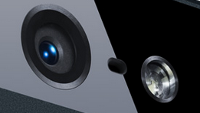 As the curtain rose on June, we told you a fascinating little story about the Chicago Sun-Times newspaper. It turns out that with ad revenue down sharply, the paper could
no longer afford
the 28 professional photographers on its staff. So the paper
axed all 28 photographers
and issued each reporter an Apple iPhone. Reporters became responsible for taking pictures for their own stories using Apple's iconic smartphone after being trained on "
iPhone photography basics
."
To see how this experiment was faring, a Tumblr account was set up called
SunTimes/DarkTimes
to show how the paper's photographs had deteriorated since the paper made the change. But perhaps there is one quick and dirty example that shows what happens when you replace years of experience using professional equipment with someone whose photography experience is posting pictures of his lunch at Arby's on Instagram.
The other day, just days after Lebron, Dwayne and Chris hoisted the Larry O'Brien trophy for the second straight year, the Chicago Blackhawks lifted Lord Stanley's Cup. Take a look at the front page photograph in the next day's Chicago Tribune, which was snapped by a professional photographer using a dedicated camera. The picture is bright, full of excitement and shows why NHL players put their bodies through the punishment of a long season. It's all just to get the chance to touch the Stanley Cup. Now look at the Chicago Sun-Times. The front page picture, which was probably taken using an Apple iPhone by the reporter on the scene, is dull with no action and no excitement.
We would like to paraphrase Jurassic Park's Dr. Ian Malcolm once again. Just because you
could
fire 28 professional reporters with tons of experience and replace them with iPhone totin' reporters whose expertise is with the written word, doesn't mean that you
should
.
source:
Tumblr
,
DaringFireball
via
TUAW