Registry keys in a ROM sheds light on an HTC HD2 handset with a QWERTY?
This article contains unofficial information.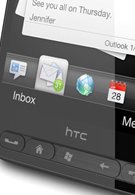 When manufacturers happen to find gold with a particular handset, there is much one can do to take advantage of riding the wave of success – such as releasing new color schemes, designs, or even upgraded specs to an existing handset. No doubt the HTC EVO 4G is proving to be one giant gold mine for the Taiwan based company, but the HTC HD2 is still proving to be a hit on the Windows Mobile front. But now there are some revelations that may hint to the possibility of seeing a new version of the high-powered Windows Mobile smartphone. Apparently Xmoo, who happens to find joy in collecting ROMs and early prototypes, might have stumbled upon some interesting news regarding the HD2. Xmoo has found evidence contained in registry keys in a ROM which reveals an HTC Leo-S with a slide-out QWERTY keyboard – which the current HTC HD2 ROMs interestingly contains the same registry keys. Based on this, it's not known whether this may end up being a last ditch effort for Windows Mobile or simply a hole blasting Windows Phone 7 device to jump start things for HTC.
HTC HD2 Specifications
|
Review
source:
Twitter
via
WMPoweruser