Reduce, reuse, recycle: what to do with an old or broken phone
8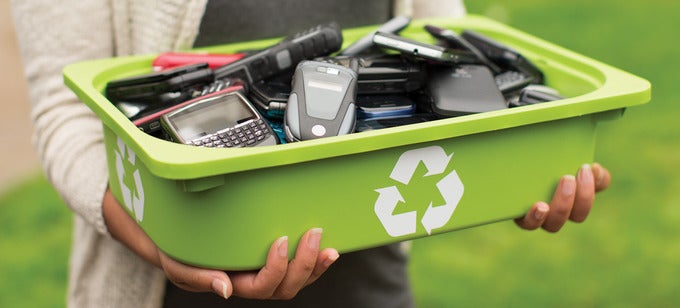 Today's hottest gadgets are tomorrow's electronic waste. That's the way thing are, and there's little we can do about it given the rate at which technology is advancing. What we
can
do, however, is to dispose of our old gadgets in a responsible manner. We can't just throw our old or broken phone in the trash. Well, technically we can, but that's an irresponsible, ignorant, and plain terrible way of dealing with outdated electronics.
Why should we recycle old and broken cell phones? The simple answer is that doing so may deal serious damage to the environment. Like many other gadgets, cell phones contain heavy metals and rare earth elements that you don't want ending up in a landfill or in the soil. Also, these elements are pretty difficult to obtain in the first place. Extracting them from old electronics instead of mining more is a more efficient solution. On top of all that, the lithium contained in phones' batteries is a highly reactive element. That's why a battery may explode violently if punctured or exposed to heat.
Thankfully, cell phones are highly recyclable, and it doesn't cost a dime to dispose of one the right way. Here are several tips on being a responsible planeteer.
First, wipe your data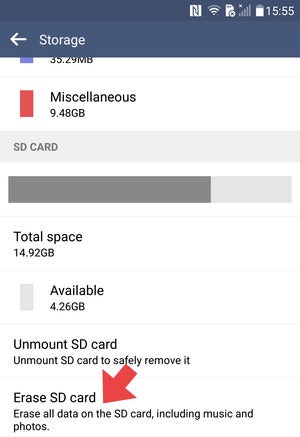 It doesn't matter if you choose to sell, donate, or recycle an old cell phone. If it still works, we'd recommend you to give it a factory reset and make sure that all your personal data has been erased. You don't want others looking at your sexy selfies, do you? Don't forget to do the same with the phone's storage card, assuming it has one. If it does, go to Settings on your phone and look for "Erase" or "Format" options under the Storage tab, as seen in the screenshot to the right.
Now, some of you may point out that even if you format a storage card, data from it can be recovered using specialized software. They'd be correct. That's why if your old phone's storage card contains data you really don't want anyone else to mess with, you have to make sure it is really gone. You many use one of the several free computer apps made for the purpose, such as DP Shredder or Blank And Secure. They render files unrecoverable by overwriting them with empty bytes. If that sounds like too much work, you may simply hold on to your memory card instead of recycling it.
Now, consider selling your old phone
As the old saying goes, one man's junk is another man's treasure. It is a wide world, and there's likely someone willing to give you money in exchange of your used cell phone. Especially if it is in good condition – a working Galaxy S II, for example, may fetch at least $50 online. That's also how much you'd get for a functioning iPhone 4. Keep in mind that a used phone's value goes up if its original packaging and accessories are included.
Even if it is a broken cell phone you wish to get rid of, it might still have some monetary value. Some people buy damaged handsets to salvage components that are expensive to buy new – displays, batteries, or motherboards, for example. Others might want to buy them and attempt to fix them. In any case, consider selling your broken cell phone. A non-functioning Galaxy S III could fetch around $40, and an iPhone 5 with a cracked screen could be worth $100 on eBay.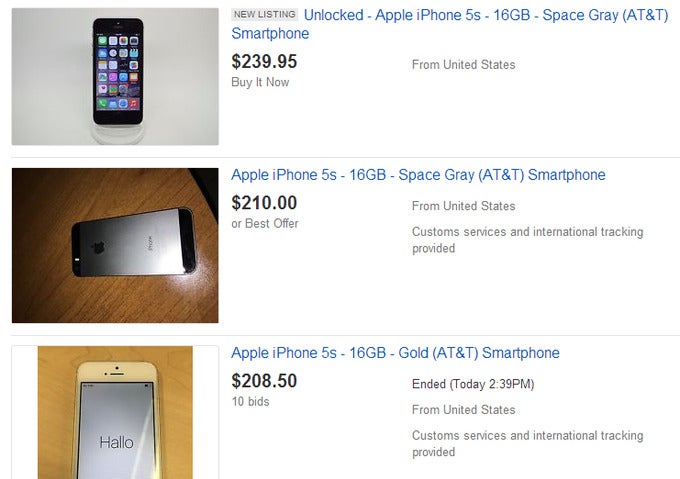 Used phones in working condition can fetch good money on eBay
...or turn to an online trade-in service
Yes, we know – some people just don't have the time or patience to re-sell old phones online. That's why companies specializing in trading in used handsets exist. They will gladly accept your used phone, and if it works, they'll give you money in exchange. If it doesn't, they'll give you a small amount of money and/or recycle it responsibly. The pros of turning to a trade-in service are that you're paid quickly and you don't have to deal with fussy online buyers. On the downside, you probably won't get paid as much as you would should you choose to sell the handset yourself. Gazelle – one of the most popular and reliable trade-in services – values a working 16GB iPhone 5s for AT&T at $110. On eBay, an identical phone goes for twice as much.
...or ask your carrier about its recycling program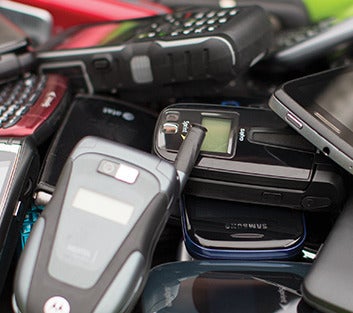 Every major carrier in the U.S. has a cell phone recycling program. Better yet, devices can be traded in for credit that goes towards the purchase of new devices or services. Recent smartphone models in good working condition may be worth up to $300. Of course, the device you're getting rid of will be worth much less if it is damaged, not functioning, or if it is just too old of a model. Even if the phone you're returning does not have any monetary value, your carrier will recycle it responsibly.
Note that the phone you'd like to trade in or recycle does not have to be from the same carrier. However, it does have to be reset, with no lock screen password. Needless to say, if your phone has been reported as lost or stolen, it will not be eligible for the carrier's trade-in program. To return a phone, it is probably best to visit one of your carrier's retail stores, but online recycling may be also an option. AT&T, for instance, lets you download and print a postage-paid label if you wish to mail your phone and accessories for recycling.