Recorded at All Things D: Jobs and Rubin reject privacy concerns with iOS and Android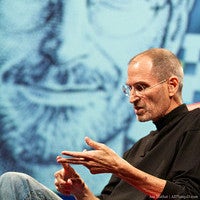 All Things Digital is renowned (among other things) for its conferences, as pretty much all leading minds in the tech industry - the likes of Bill Gates and Steve Jobs - were interviewed on the All Things D stage at one point or another.
With privacy scandals rocking the mobile industry in the last few months, including the
location tracking
one during which Apple earned its place in the spotlight for the wrong reasons, the ladies and gents at All Things Digital decided to cut a video that shows Steve Jobs (quite convincingly, as usual) and Andy Rubin (quite reasonably, as usual) informing us that there is no privacy problem whatsoever with these two OSs.
Just for the record, Jobs' interview was taken during the D8 conference last summer, while Rubin's part was recorded in December during D: Dive into Mobile.
Now, we are not that kind of people who will spoil the fun, but let's just say that Jobs claims his company takes privacy extremely seriously, and that, as a matter of fact, a lot of people in the Silicon Valley think Apple is a bit old-fashioned because of that. Rubin, on the other hand, claims that a quick look at the Android open source, which is available for all to see, shows that it doesn't gather data, while conceding that certain Google services collect data.
A recently conducted Nielsen study shows that most
people are anxious about location tracking apps
.
source:
All Things Digital