Recharge your smartphone while you stay in shape
7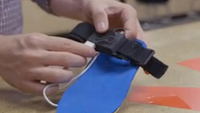 At the age of 15, Angelo Casimiro has built an interesting product that many of you might be interested in. Casimiro came up with the idea to produce footwear that generates electricity while you walk. With these sneakers, you can recharge your smartphone while keeping in shape at the same time. But before you give up your conventional recharger, keep in mind that playing basketball for two hours generated only ten minutes of battery life for Casimiro's iPhone.
The footwear was entered in the Google Science Fair by the teenager, who lives in Manila. He should find out on June 22nd if he is a regional finalist and a local winner in the contest.
However, there is some bad news for the kid. A company called SolePower, with a similar product, has already been funded successfully on Kickstarter. The company will start shipping this fall, insoles that will generate electricity when you walk. Like Casmirio's science project, a USB port will allow you to plug in your smartphone. According to the company's founders, an iPhone can be fully recharged after a 2.5 mile walk.
Regardless what happens with Angelo Casimiro, before the year is out, you should be able to walk your way to a fully charged battery. The video slideshow below has each story for you to follow.
source:
SolePower
,
ASCAS
,
Interaksyon
via Gizmodo