Real world 5G field test produces data speed of 3.6Gbps
68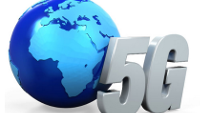 As fast as 4G LTE data is, 5G speeds are much faster. Huawei's networking division teamed up with Japanese carrier NTT DoCoMo, to conduct a field test for 5G wireless service in Japan. Using a band below 6GHz, the partners were able to hit peak data speeds of 3.6Gbps. What made this test so important is that the band used for it can be employed in the real world. Other 5G tests conducted by Nokia and Samsung used bands that would require a completely new infrastructure to be built.
The Huawei-NTT DoCoMo 5G field test was also done in the wild, outside of the antiseptic conditions of the lab. The wireless industry would like to get 5G off and running by 2020, although Verizon made some noise last month by saying that it would have "
some level of commercial deployment
" by 2017. That comment was made by Roger Gurnani, Big Red's chief information and technology architect.
"As the first in the world to succeed with such a large multi-user environment test, this is an important milestone. This is very encouraging as the industry works to commercialize 5G by 2020. Both Huawei and DOCOMO teams have made tremendous efforts. I look forward to even more impressive results when we move to the next phase of field trial in Japan."-Takehiro Nakamura, VP of 5G, NTT Docomo

"This joint field trial represents a significant advance toward fulfilling Huawei's commitment to developing 5G technology standards before 2018. Results like these show we are making rapid progress and are on the right path. I am confident that what we have learned here will be reflected in even more innovative technological advances as we continue working on 5G research."-Dr. Wen Tong, CTO, Huawei Wireless
According to the ITU, 5G speeds should hit 20Gbps. For comparison purposes, a Speedtest on Verizon's 4G LTE network just showed that our
Motorola DROID Turbo
was supporting download data speed of 33Mbps. Movies that take minutes to download will be installed on your phone in a blink of an eye with 5G.
Verizon also noted last month that
it would be conducting 5G field trials next year
, and has started working with Alcatel-Lucent, Cisco, Ericsson, Nokia, Qualcomm and Samsung toward that end.
source:
BGR