Real pics of Samsung's clamshell Android with 16 MP camera emerge, flippin' awesome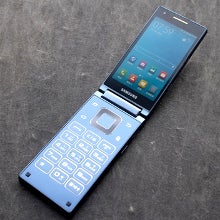 Let's face it, flip phones were awesome. From the unfolding to take a call, and have the lower half next to your lips, while the upper part reaches your ear - you know, like a real phone - to the reassuring click when you close it that tangibly marks the end of a call, flip phones have a certain aura about them that can't be recreated by today's large flat toasts.
Flips are still the rage in Japan and some other Asian countries, and we are certain there are quite a few nostalgically-driven fans who remember the convenience of a flip handset. Well, Samsung decided to cater exactly to that crowd when it unveiled the
SM-G9198
, but with a modern day Android twist.
Samsung's flip Android comes with two 3.9-inch Super AMOLED panels with 768 by 1280 pixels of resolution, both of them protected by layers of Corning's
Gorilla Glass 4
, which is the same ultra-resistant glass that you're going to find on high-end Samsung handsets such as the
Galaxy Note5
or the
Galaxy S6
. The handset draws its processing power from the hexa-core Qualcomm Snapdragon 808 chipset, a SoC that's paired with 2 GB of RAM.
Couple those with a 16 MP rear camera, a 5MP secondary shooter, 16 GB of expandable internal storage, LTE connectivity, and a 2020mAh battery, and this is easily the most powerful flip phone ever done. On the software side, the Samsung SM-G9198 flip phone runs Android
5.1
.1 Lollipop, of course. You'll probably only be able to import that puppy, rather than buy it on a US carrier, but in the meantime you can feast your eyes on real life pictures of the handset that just emerged.