Real gangsters prefer BlackBerry
17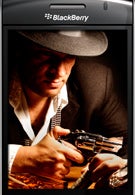 Here is a small part of our guide "How to Become a Gangster, for newbies": Step one – find two gorillas with bodies like large wardrobes to guard you. Step two – equip them with machine guns. Step three – give them a BlackBerry to communicate without leaving any chance for the police to catch you.
Yes, that's right; RIM's products are preferred not only by business customers. It seems that criminals also like BlackBerries. The main reason for this is the BlackBerry Enterprise Server (BES), which offers an incredibly secure transmission of information. As a result, the law enforcement agencies can't intercept criminals' communications. Besides, by installing some additional software they could practically achieve a military-grade security.
Some legislators are working on this problem. They want to loosen the security and therefore make intercepting information much easier, but this will affect business customers as well.
via:
mobilemag