Reader's choice: the LG G3 is a better phablet than the iPhone 6 Plus
99+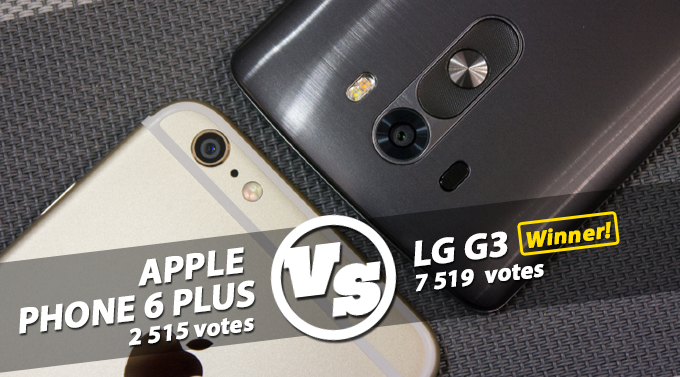 Introduction
On the first of October, we put the iPhone 6 Plus and LG G3 against each other
in a match
whose outcome you - and only you - decide. We gave you until last Sunday to vote for the better phablet, and thanks to those of you who obliged, we now have the results. They speak clearer than clear - the LG G3 is the better phablet, at least when it comes down to four key categories like Design, Display, User Experience, and Camera.
Design
Apple's design team might lose sleep over this, but our readers preferred the LG G3's plastic design (2336 votes) over the iPhone 6 Plus's aluminium premium-ness (557 votes) without a smudge of uncertainty. Note, however, that the Design category isn't merely a beauty contest. It takes into consideration practical qualities such as the device's exact dimensions, ergonomic choices (such as power and volume key placement), and embellishments (like the LG G3's anti-fingerprint coating). Since we can't read our readers' minds, we can only speculate why they voted for the LG G3 over the iPhone 6 Plus. Was it #bendgate's black PR curse? Or maybe they simply appreciated that the 5.5-inch phablet is as compact as reasonably possible? Indeed, although the iPhone 6 Plus is no less beautiful, Apple made it taller and wider than it absolutely had to. We've seen reports that the majority of customers prefer the 4.7-inch iPhone 6 over the Plus-sized version, and its overwhelming size sounds like one logical explanation. Why don't you tell us why you chose the LG G3?
Display
In the Display department, votes for the iPhone 6 Plus (755 votes) inched closer to those in favor of the LG G3 (1673 votes). That's no surprise, as both the former's 5.5-inch 1080p screen, and the latter's 5.5-inch QHD (2560x1440) panel are beautiful in their own right. And although the iPhone 6 Plus has better brightness, contrast, and gamma levels, the LG G3's truer colors and pin-sharp resolution attracted a bigger crowd - despite the annoying oversharpening of text and relative dimness.
Interface and functionality
The LG G3 stole the vote in the Interface and functionality category too, racking up 1737 votes against the iPhone 6 Plus' 568 votes. While taste is extremely subjective, not too many can deny the fact that the LG G3 is a simple joy to operate with its subdued colors, clear icons and uncluttered menus. It also offers multitasking and security features - Dual Window and KnockCode in particular - that Apple's phablet cannot match out of the box.
Camera
Somewhat surprisingly, the LG G3 (1773 votes) won the Camera battle as well! It raced past the iPhone 6 Plus (635 votes) and Apple's remarkable reputation in smartphone photography, perhaps owing to its bigger camera sensor (13MP vs 8MP), its superb auto-focus system, and a nicer front cam. Truth be told, though, you'd happy to have either of them when a photo opportunity comes along.