Read all about it: Apple iPad HD to have more RAM, separate LTE versions; will launch March 16th
52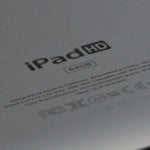 Less than 24 hours
before the expected introduction of Apple's third generation tablet
allegedly called the Apple iPad HD
, sources for
The Verge
has some new information. Let's start with the tablet's RAM which is tipped to be larger than the 512MB that was on the first two iterations of the device. Most likely,
we are looking at 1GB of RAM
on the Apple iPad HD. Before we get into some of the other rumors,
The Verge
's tipsters say that the tablet will have a
faster dual-core A5X processor
under the hood with the Cupertino Crew (sounds like a great name for a sitcom) waiting for the Apple iPhone 5 for the quad-core goodness of the A6 processor. The A5X was described as being an "
A5 on steroids
." The 2048 x 1536 Retina display
is about as sure as can be
, say the sources.
The Verge
, we could see
three different versions of the tablet
introduced tomorrow. Verizon and AT&T will each get their own LTE model,
the first mobile devices from the manufacturer to offer LTE support,
and there will be a 3G variant with both a CDMA and HSPA radio similar to what is in the Apple iPhone 4S. Although LTE chips from Qualcomm can also run on 3G bands, Apple might have had a financial reason to separate these models. There was no word on whether or not Apple would leave the iPad 2 on the shelves as a budget-priced model to compete with lower priced Android tablets.
Last weekend, we passed along a story that Apple might launch the next tablet on the same date that its
new Houston Apple Store will open
which is March 16th. According to an Apple Store insider who spoke with 9 to 5 Mac, there will be a
big Apple Store event on March 16th
to launch the Apple iPad HD. In addition to the Houston store, another Apple retail location will open on March 16th in London, inside the world famous Harrod's department store. Coincidence? We think not!
There is expected to be a shortage of the Apple iPad HD right off the bat, so if you are planning on purchasing the tablet next Friday, better
be prepared to wait in a long line
. And say hello to our
friend the barista
for us!
source:
TheVerge
,
9to5Mac
via
electronista