Rayman Jungle Run comes to Windows Phone 8
13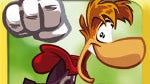 Rayman Jungle Run is one of the most entertaining and most popular runner/platformer games on mobile, but unfortunately for Windows Phone users, the game has been limited to Android and iOS so far. Well, today changed all that because Rayman Jungle Run has been released into the Windows Phone Store, although it is only compatible with Windows Phone 8, and not WP7.
Even better, the game not only features all of the levels that were available at launch on other platforms, but it has two of the new level updates as well - the Giant Planet and The Pirate Ship. And, unlike some other high profile games that took a bit too long to make their way to Windows Phone, it looks like Ubisoft has done well by the platform, because the early reviews are stellar.
It's a fantastic game, and certainly worth the $2.99 price tag. If you'd like to give it a shot, it's available right now in the
Windows Phone Store
.