Random pic of the day: Google's Sergey Brin in a pink Batmobile
6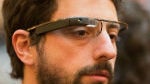 This is an absolutely amazing image, and one of the best April Fool's Day pranks we've seen. And, we wanted to bring it to you, just in case you hadn't had a chance to see it yet. If you're unclear what you're looking at, it's Google's Sergey Brin (wearing Google Glass of course) driving a Tesla that has been dressed up like a pink Batmobile complete with eyelashes on the headlights.
The prank was courtesy of the Google X Lab team, which decided that Brin's Tesla needed a makeover. So, the team wrapped the car in pink vinyl (they were nice enough to not paint the car), and add on the eyelashes, Batman logo, and Batmobile fins. Although, the best part of the entire thing may be the rims that the team put on the car, which are chrome rims with the Google Chrome logo on them.
It's all about the small touches.