ROG Phone vs Razer Phone 2: which gamer phone do you think is better?
34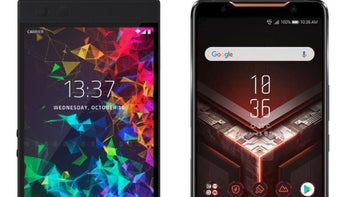 Last year, Razer crashed through the smartphone scene with its own brick of a smartphone — the
Razer Phone
. A large, rectangular device that made absolutely no apologies for what it is. It aimed to deliver a pristine gaming experience, with huge front-firing speakers, proper processor cooling, and a 120 Hz display. For that reason, the company had no issue with launching a phone with huge bezels and neither did most of the community, it seemed.
And this year, the
Razer Phone 2
is... a lot of the same. Large, boxy, unapologetic. But Razer might need to start worrying.
A year has passed, and others are also looking to take a piece of the "gamer niche" pie. Notably, Asus has launched a smartphone under its own gamer brand — Republic of Gamers. It's called the
ROG Phone
and boy does it come with a heap of features!
First and foremost, its design is sleeker, more ergonomic, and can look techy and cool or corny and pretentious, depending on your viewpoint. The ROG Phone also has front-firing stereo speakers, but thinner bezels, and it does sport a 2:1 display aspect ratio where the Razer Phone 2 sticks to 16:9.
Then, we have the cool trigger buttons that are embedded in the ROG Phone — tapping on the frame with your fingers can act as aim / fire buttons, making shooters much more enjoyable to play. And to top it off — a ton of accessories, from an external fan that keeps the phone cool and charged for longer periods, to a controller bed that transforms it into a portable console.
So, did Razer make a mistake by reiterating the same phone this year? Does the ROG Phone have it beat in 2018?