RIM's stock "bears" watching
6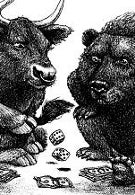 Despite recently launching the BlackBerry Torch, the "best BlackBerry ever", stock market participants have taken a long hard look at Research In
Motion
and have decided that they do not like what they see. Amid competition from the iPhone 4 and the strong momentum that the Android OS has had, BlackBerry devices have had a tough time ringing up sales outside of the pinstriped businessmen who rely on the phones for their prowess when it comes to mobile e-mail.
RIM's stock (Nasdaq symbol RIMM) has recently cracked the 50 level on the downside. Technical Analysts, who use charts to predict the future movement of stocks, are bearish on the stock with most saying that RIM is now in a downtrend. The 52 week high for RIM is 88.08 with the 52 week low of 45.05 set on Friday.
Despite the drop in the stock, and the view in the industry that somehow RIM is behind the curve, BlackBerry phones still have fans. Wunderlich Securities analyst Matthew Robison said, "I talk to the most risk-averse type of users, like defense contractors, and they would not even consider going outside of RIM." The problem is that even with the new multimedia-centric BlackBerry 6 OS and the much improved WebKit browser, consumers are flocking to Android models and the iPhone. With Microsoft soon to flex its muscles with the new Windows Phone 7 OS, things could get a lot worse for stockholders of RIM.
source:
BlackBerryOS