RIM's Laziridis hints at more touchscreens from RIM
This article contains unofficial information.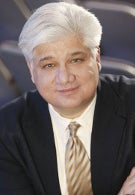 Just a few weeks after the troubled launch of the BlackBerry Storm, we
reported
how RIM's Co-CEO Jim Balsillie had proclaimed that handsets going out the door with bugs was the "new reality". The other side of the CEO bookends of the Canadian manufacturer, Mike Laziridis, had an equally disturbing quote. In an interview with Laptop Magazine, the executive was commenting on the problems RIM had with their first touchscreen device and said that no one gets it perfect out the door. Laziridis insisted that despite the buggy software and lagging response from the Storm upon its launch, the handset was thoroughly tested and he pointed out that it was his firm's first touchscreen unit, hinting at more to come.
The CEO also chided Apple about its inability to catch up to BlackBerry when it comes to push technology and that the 'Berry OS was made for multi-tasking from the start, without using up too much battery strength. He talked about the BlackBerry browser getting better and better toward the goal of bringing a full desktop experience to the mobile screen, pointing out that with the higher resolution displays on the newer models, there is no reason why the browser can't keep improving. The executive also said that the response to the new Apps World was "wildly positive" and said RIM is working with carriers to get them to handle the billing from the store instead of relying on PayPal.
source:
Laptop Magazine