RIM says that video will unlikely become the next "killer app"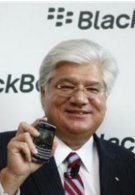 As more consumers take the plunge inditching the usual cell phone in favor of smartphones, there is thisunderlying fear among network providers about how they are able to sustainthe growing insatiable appetite for data connectivity. Thankfully 3Ghas become widely available to a good portion of the total globalsubscribers, but we're already at a point where it may prove too muchfor network providers to keep up. With 4G networks up and runningalready, there is now a focus on video connectivity that is expectedto supplant itself as premier choice of communication for consumers.
One of the big time players in the smartphone world, RIM, has somedoubts about how video will become the "killer app" that willcatapult smartphones to the next level. They believe that it willchoke the airwaves and that it will require additional development toefficiently deliver the service properly so that it doesn't strainthe network providers. Not only does video calling look to be acontributing issue, but streaming high-definition videos to smartphones will also be a catalyst in triggering choppy service anddropped calls.
During a conference hosted by a unit of TorontoDominion Bank, RIM's co-CEO Mike Lazaridis said, "I still don'tknow and I don't think anyone knows if video is a killer app forsmartphones. I don't particularly think it is." When talk camearound to how video will affect network performance, Lazaridis said,"If you think that today's 3G as a browsing experience is achallenge to these data networks, imagine what a video streaming ordownload experience is going to be as these screens start to looklike HD televisions in terms of resolutions."
source: Reuters