RIM says it is getting "tremendous" response from carriers to BlackBerry 10
23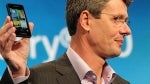 RIM executives have been on the road
, meeting with carriers in the U.S., Canada and Mexico in an attempt to drum up support for the new BlackBerry 10 OS expected to launch early next year. The group of executives, which included RIM CEO Thorsten Heins, brought with them early versions of the new handsets that the Canadian manufacturer hopes will allow it to compete with the Apple iPhone and Android models. IDC data showed that RIM's market share in the global smartphone market has dropped from 12% last year to 4.8% in the second quarter.
The road show is expected to lead to commitments from carriers to support BlackBerry 10. Being a Canadian company, RIM has put an emphasis on its visits to Canadian operators like BCE and Rogers, both of which were amongst the first to offer BlackBerry devices when launched all those years ago.
"The response that we got back from the executive team at some of the Canadian carriers was tremendous. They were visibly positive and visibly enthusiastic."-Andrew McLeod, managing director of RIM's Canadian operations
The good news for RIM and its fans is that the response from the Canadian carriers has been "
Tremendous,
" according to Andrew McLeod, managing director of RIM's Canadian operations. McLeod spoke to the media on Thursday near RIM's Waterloo, Ontario headquarters and said that the mobile operators "
...were visibly positive and visibly enthusiastic
." The phones that the RIM executives have been showing the carriers are not the final product. They are
similar in size and shape
and are essentially placeholders while additional testing still goes on for BlackBerry 10.
The tour will continue over the coming weeks with visits to network operators in Europe, Africa and Asia. After the road show is finished, the next step is to start discussions with the carriers over the actual launch of the new phones. Those talks cover things like the marketing of the new models and technological support. McLeod said that those talks will probably start very soon.
Thursday's visit near Waterloo was part of the BlackBerry Jam event held by RIM to get developers excited to start writing apps for the new OS. Inspired developers equals more apps for BlackBerry App World which the company hopes will lead to more sales of BlackBerry phones. Alex Saunders, vice-president of RIM's developer relations, said that RIM is building a team to support "
tens of thousands
" of apps per month being added to App World prior to the launch of the new handsets.
source:
TheStar
,
Bloomberg
via
FierceWireless
Recommended Stories