RIM puts picture of BlackBerry Bold Touch on its web site prior to introduction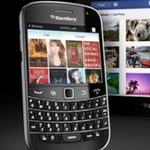 Someone slipped up at RIM, giving us an "unofficial" official look at the upcoming BlackBerry Bold Touch. The device wasn't supposed to be made public until next week's BlackBerry World Conference in Orlando, but somehow the device was outed with a couple of images on the BlackBerry home page, which have since been removed. "Touching is believing" said the copy which also gave away the news that the Bold Touch would have BlackBerry 7 (formerly 6.1) under the hood.
For those who wonder what RIM did with the BlackBerry Bold Touch that makes it different from the Canadian based company's past attempts to score with a touchscreen phone, the answer goes all the way back to the BlackBerry Bold 9000. That device captured the attention of 'Berry fans and other smartphone buyers thanks to its size which allowed RIM to build one of the most highly regarded QWERTY keyboards on the face of the device. Unlike the BlackBerry Torch 9800, the BlackBerry Bold Touch has the same QWERTY found on the Bold 9000 thanks to the dimensions on the new touchscreen handset which is wider than the Torch and the Bold 9700. In fact, the Bold Touch has the same width as the Bold 9000.
RIM is running out of chances to catch up with Apple and Android. Improvements seen on the BlackBerry Torch 9800 with the WebKit browser and more responsive touchscreen need to continue. RIM just can't afford to take short cuts like they did with YouTube on the Torch. Instead of having a YouTube client, pressing the icon on the phone re-directs you to the video sharing site's mobile page. "Pinch to Zoom" needs to be made as buttery smooth as possible. It's rather simple, if BlackBerry is to provide the same user experience as its competition, RIM needs to make sure that every little thing is either done as well as the competition or better.
The BlackBerry Bold Touch 9900 is the GSM version of the phone while the CDMA model is the 9860. They have been codenamed the Dakota and Monaco respectively and while we now have seen the first official word that the BlackBerry Bold Touch is coming soon, we should find out a lot more about the handset next week at BlackBerry World.
source:
Crackberry