RIM gets sued over Music Playlist feature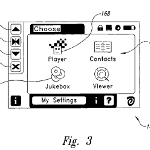 important issues between fierce competitors
, RIM is being sued for
allegedly infringing on a patent dealing with a music playlist
. Point Ventures of Seattle claims that U.S. Patent 7,667,123, relating to the "System and method for musical playlist selection in a portable audio device" was used by the Canadian based manufacturer of BlackBerry devices without a license.
The patent would seem to cover
just about every musical playlist on a mobile device
with song titles displayed after a search. And while BlackBerry devices haven't been selling like hotcakes recently, RIM still is sitting on a decent pile of cash, enough to make Point Ventures' mouth water. The suit was filed in the state of Wisconsin where coincidentally or not,
Motorola and Apple are battling it out over a FRAND patent case
.
The patent was originally filed by a company called Interactive Objects and has since been transferred it to Point Ventures. The latter is basically a shell company that uses the courtrooms of America as its office, protecting a portfolio of patents. Last year,
a different patent trolling firm used another music playlist patent to sue Apple and Amazon
.
source:
GIGaom
via
BerryReview